Puppy Training & Socialization Classes
Guelph's Training Program for Raising Happy Social Puppies
A place to socialize and train your puppy in a safe and controlled environment.
In addition to training a foundation of behaviours that your puppy will rely on throughout their life, this program also focuses on fostering a strong bond between you and your dog. 

Healthy socialization before 16 weeks of age is vital in preventing future behaviour problems in adult dogs. American Veterinary Society of Animal Behavior puppy socialization statement says: "Incomplete or improper socialization during this important time can increase the risk of behavioural problems later in life including fear, avoidance, and/or aggression. Behavioural problems are the greatest threat to the owner-dog bond. In fact, behavioural problems are the number one cause of relinquishment to shelters. Behavioural issues, not infectious diseases, are the number one cause of death for dogs under three years of age." 
Learning Outcomes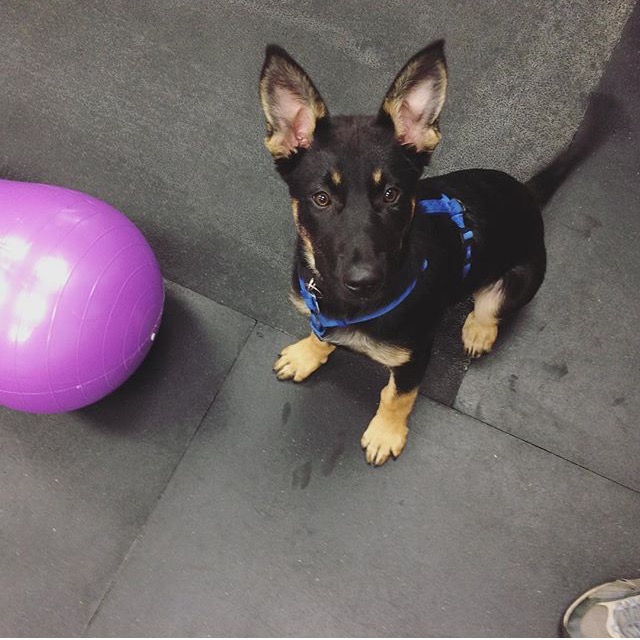 Healthy socialization with sounds, objects, people, other dogs  
Managing and preventing puppy chewing and nipping
Responding to name
Polite leash walking
Nose targeting and recall (coming when called)
Mat/crate training
Healthy play behaviours
Leave-it and Drop-it
Dog body language and understanding how dogs communicate
Accepting necessary handling
Polite greetings with people and dogs
Who is this program for?
Puppies between 8 and 16 weeks of age.
Socialization is the most important thing you can offer your puppy at this young age, do not miss out on the opportunity to help them gain confidence and trust in their surroundings.
Your puppy learns every second that they are awake, regardless of if you are actively training them. This specialized puppy program is an opportunity to introduce polite manners before less-desired habits take over.
Help your puppy to enjoy offering polite behaviours, and set them up to become happy family companions.
For extra convenience and flexibility we have evening and weekend classes available
Register online (below) and you will receive a link to start with our FREE online orientation webinar.
Our class sizes are small, the maximum is 4-5 puppies per class, which ensures INDIVIDUALIZED ATTENTION.
Schedule
Take a look at our calendar for the days and times that these classes run. These classes take place at our training school, located at 52 Victoria Road South in Guelph
Pricing and Registration
Six-session program: $265 + HST - Enrolment includes a discount on your next level of training classes, and discounted private training sessions!
Please read our Training Philosophy and Group Class Policies before registering.
How to get started
Simply complete your REGISTRATION FORM. You will be notified once your registration has been accepted.